Purpose
The purpose of the Worker Safety & Health Subgroup (WS&H SG) is to promote safe work practices and a healthy workforce while supporting effective and efficient operations within the Department of Energy (DOE) and related EFCOG member organizations.  The WS&H SG accomplishes its purpose by gathering, evaluating, developing and sharing performance measures, best management practices, and lessons learned consistent with the principles and functions of Integrated Safety Management.
Objectives
The WS&H SG partners with related EFCOG Subgroups to:
Promote, coordinate, and facilitate the active exchange of information, practices, procedures, lessons learned, and tools that enable effective and efficient worker safety and health programs at member sites and across the DOE enterprise through  Communities of Practice (CoP)
Evaluate and/or recommend continuous improvements to member companies and identify and assess impacts of new and emerging requirements
Develop guidance, share lessons learned and disseminate best practices, tools and techniques to enhance the effectiveness of WS&H programs
Foster technical development, mentoring, and leadership opportunities among participating members
These objectives are accomplished through informal exchanges, collaborative tasks and projects, scheduled conference calls, workshops, presentations, Webinars, benchmarking, and authoring of peer-reviewed publications and collaborations.  Members may be asked to author, review, and otherwise contribute their expertise to the development of DOE technical standards and related guidance.
EFCOG Worker Safety & Health Subgroup Charter
---
Leadership
Chris Rojas, Chair (Argonne National Laboratory)
Michael Romero, Vice Chair (Sandia National Laboratories)
Mark Brynildson, Secretary (Sandia National Laboratories)
DOE Point of Contact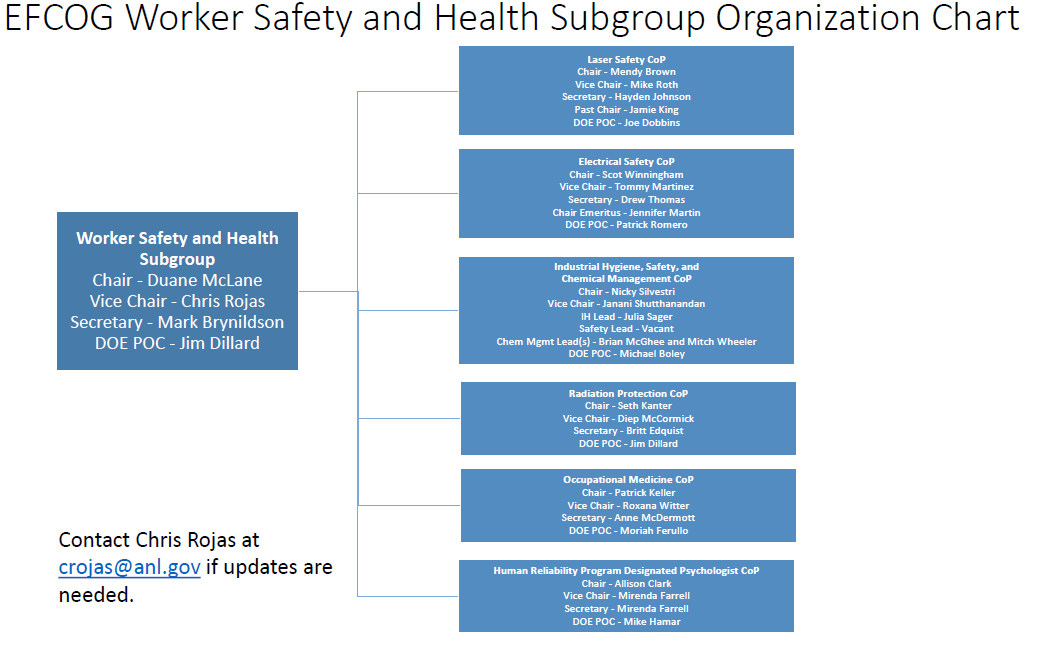 ---
Upcoming Events
Electrical Safety Spring 2024 Meeting will take place at on 03/04/2024
Worker Safety & Health Subgroup Spring 2024 Meeting will take place at on 04/15/2024 - 04/18/2024
---
Communities of Practice
BioSafety Community of Practice
HRP Designated Psychologists Community of Practice
Industrial Hygiene & Safety Community of Practice
Occupational Medicine Community of Practice
Electrical Safety Community of Practice
Laser Safety Community of Practice
Radiation Protection Community of Practice
Documents
Contact our Team: