Description
The Safety Working Group (SWG) is chartered to support member companies in attaining and maintaining the highest levels safety and regulatory performance in the operation of DOE/NNSA facilities/projects. The SWG achieves this by:
Advocating for strong, effective implementation of Integrated Safety Management across departmental activities.
Seeking out, developing, and promoting best management and operating practices
Facilitating the exchange of operating experiences and information on safety/regulatory programs and their effectiveness and designing studies and developing position and technical papers to inform DOE/NNSA regulations and directives processes where appropriate.
Providing DOE/NNSA and member companies with access to a network of subject matter experts.
Assisting member companies in cost effective implementation of effective safety and regulatory programs through peer reviews and consultations
Upcoming Events
Worker Safety & Health Subgroup Spring 2023 Meeting will take place at on 04/11/2023 - 04/13/2023 at All Day
QA/ISM/CAS Spring 2023 Meeting will take place at on 05/01/2023 - 05/04/2023 at All Day
EFCOG 2023 Annual Meeting will take place at on 06/21/2023 - 06/22/2023 at All Day
Electrical Safety Workshop will take place at on 07/17/2023 - 07/21/2023 at All Day
Structure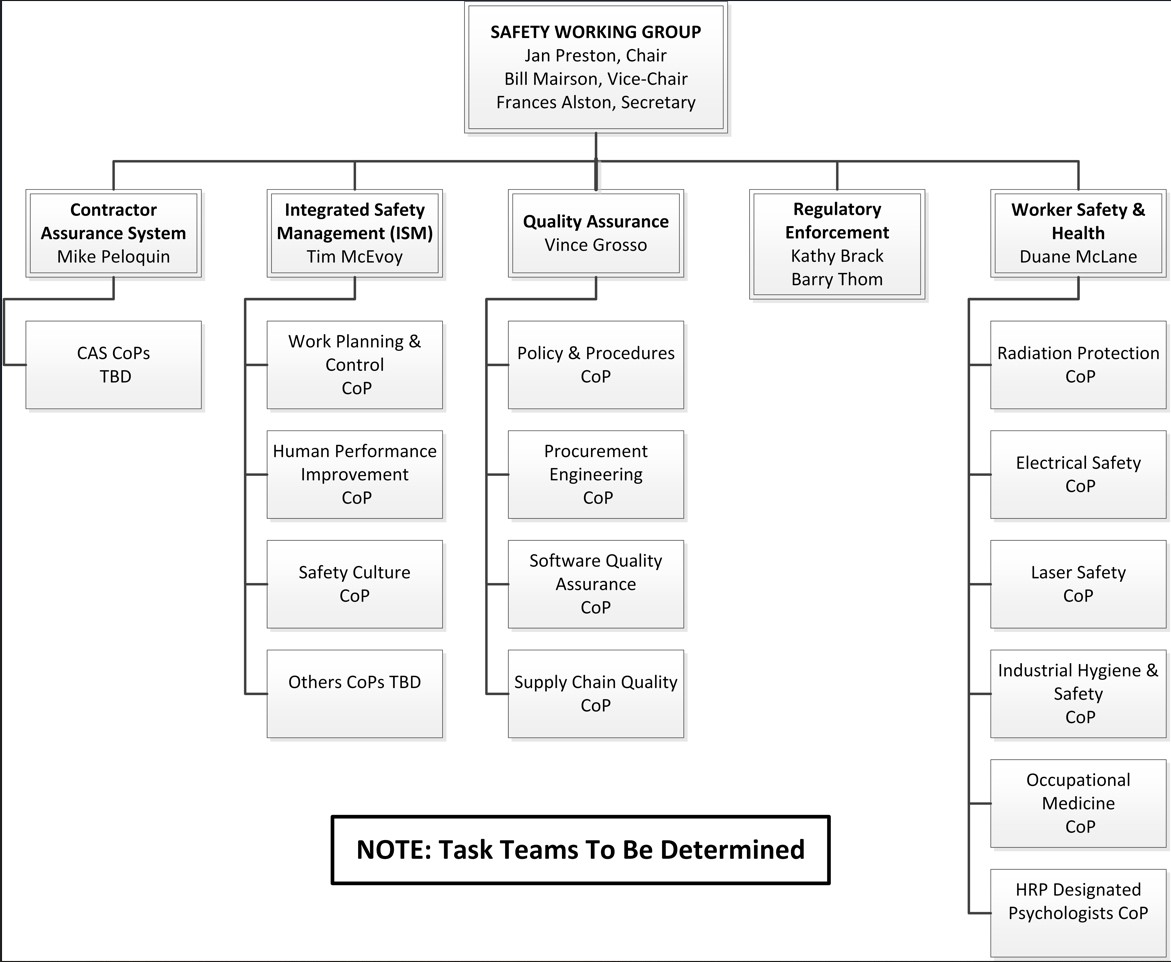 Leadership
Jan Preston, Chair (Fluor Federal Services)
William (Bill) Mairson, Vice Chair (Consolidated Nuclear Security)
Frances Alston, Secretary (BWXT)
EFCOG Sponsoring Directors
DOE Liaison
Kevin Dressman (DOE EHSS-10)
Contact our team via the contact form below. Looking for the SWG SME POC list? Please request a copy via the form below.
---
Subgroups
Contractor Assurance System Subgroup
Integrated Safety Management Subgroup
Quality Assurance Subgroup
Regulatory & Enforcement Subgroup
Worker Safety & Health Subgroup
---
Documents
Contact our Team: